Table of Contents

[Hide]

[Show]
RPG's come in many shapes and sizes, with each iteration of the genre offering its own unique take on mechanics and overall presentation. For instance, RPG shooter games offer a chaotic gameplay formula that many RPG fans seem to love. With that in mind, here are the best RPG shooter games available on PS4.
#22 Warframe
Warframe is a title that has been out for a while, but you might get to experience it in one of its best forms on PS4 due to its graphical power. In the game, you'll be a soldier that is given a suit of incredible power known as a Warframe. But it's much more than that, there are over 40 different kinds of Warframes, each one special and with different capabilities. That means you'll be able to choose which one suits you best for the mission at hand.
That mission, as told you to by the mysterious Lotus, is to go across the system of planets you're in and fight off warring factions that are trying to destroy everything.
You don't have to fight alone though, team up with friends and save everything!
#21 Outriders
If you're up for playing Outriders, you'll be in for a fast-paced RPG shooter experience that puts you on a world that is basically dying. But, when a mysterious signal gets your interest, you'll journey out across the world either by yourself, or with two others, in order to figure out where it came from, and what it might mean for the world at large.
You'll have freedom to create your Outrider how you want, four different classes await you, each with a skill tree you'll want to improve upon quickly.
And we say that because there are a LOT of threats in this world, and some of them want to find the signal for themselves. So jump in, and see if you can survive this action-packed world.
#20 Far Cry 5
Far Cry 5 is what you'd expect from the beloved Ubisoft franchise, an open-world RPG shooter set in a land ruled by an evil dictator. The fifth entry in the series is set in the USA, featuring landscapes that some of you may potentially recognize.
Far Cry 5's most interesting feature is obviously the sandbox approach to open-world design, where you are able to tackle specific missions in any order. If this sounds like something you'd enjoy, then give it a go!
#19 Far Cry 6
Another entry in the Far Cry series is on this list, as Ubisoft knows how to create a fun sandbox RPG shooter. The sixth entry in the series, Far Cry 6 features an excellent performance by Giancarlo Esposito as the main villain, Antón Castillo, in addition to retaining the core gameplay loop that was established back in Far Cry 3. Although it may be repetitive to some people, it's still another excellent entry in one of Ubisoft's flagship franchises.
#18 Elex 2
Elex 2 is admittedly filled with various gameplay issues, such as bugs, and clunky gameplay mechanics. However, underneath all of that nonsense is an addictive RPG shooter that allows you to traverse an interesting open world on the Planet of Magalan. It boasts a deep NPC system, where certain decisions will impact their reactions to your character.
Elex 2 has received notable positivity towards its open world and story, so it's worth checking out if you're interested in those specific areas.
#17 Fallout 76
At launch, Fallout 76 was a complete mess, but Bethesda Game Studios have seemingly been able to turn it around to some extent. Fallout 76 boasts one of the friendliest online communities, where players share loot with newcomers, and tend to help them out if they're struggling.
Since the "Wastelanders" update in 2018, the game has been able to return to its RPG roots, offering proper interactions with NPCS like its predecessors. If you're interested in playing an online shooter RPG, then Fallout 76 may be worth your time.
#16 Rage 2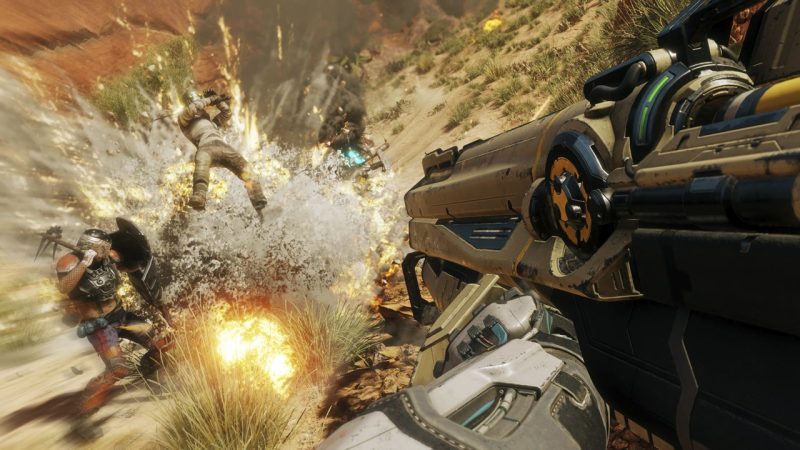 Rage 2 is by no means perfect – it has a lot of issues, but if you enjoy the Mad Max style of world design, then you might want to give this one a shot. Rage 2 features a bizarre story set in a post-apocalyptic world, with a heavy emphasis on experimental gameplay.
You can customise the main character, Walker, with various skills and equipment, to accommodate your own play style. Rage 2 is great for those looking for simple, chaotic fun in an open world environment.
#15 Ghost Recon Wildlands
Ghost Recon Wildlands received mixed reception upon its release in 2016, as for many people, it was a significant departure from what put the series on the map in the first place. That being said, Ghost Recon Wildlands is a blast to play with friends, especially on the harder difficulty modes, as you need to ensure that you're being strategic when approaching enemies.
#14 Remnant From The Ashes
Remnant From The Ashes can be played cooperatively with other players as they progress through its interesting main story. The game takes place in a post-apocalyptic earth that has been completely left to ruin by an interdimensional entity called The Root. It's an interesting take on a genre that has been showcased many times before and offers a fun gameplay loop with interesting action-RPG elements.
#13 Metro Exodus
It seems like the post-apocalyptic genre is a constant presence on this list and Metro Exodus is no exception. Exodus was released in early 2019 on all major platforms to positive reception from critics, being hailed as a worthy successor to the previous two games, Metro 2033 and Metro Last Light. Throughout your journey, you will be utilising stealth to hide from a variety of mutated and humanoid enemies, in addition to exploring both linear and open-world levels.
#12 The Ascent
The Ascent is a game that might have slipped past your radar, as it was initially released exclusively on PC and Xbox platforms. It arrived on PS4 and PS5 in March 2022, with a collector's edition on the way in September.
In this cyberpunk-themed action RPG shooter, you explore a futuristic world plagued by corruption, and it's up to the player to stop various factions from taking control over the city's general population. The game can be played co-operatively with up to four players, with online and local play.
#11 Destiny 2
Destiny 2 launched in 2017 to mixed reception from the community, as it abandoned a lot of ideas from its predecessor and failed to encourage its player base to continue playing. However, since going free to play, Destiny 2 is a much better game now, offering an addictive online looter shooter that is still worth playing in 2022. It may seem intimidating at first, but Destiny 2 is great fun, especially with a full fire team.
#10 Fallout 4
Although Fallout 4 was a weaker entry in the series compared to Fallout 3 & Fallout New Vegas, it's still a worthwhile investment, due to its excellent gunplay and interesting side-content. Fallout 4 is set in Boston, meaning that a ton of iconic locations are preserved here, giving you an insight into what a post-apocalyptic version of the city would look like.
#9 Deus Ex Mankind Divided
Deus Ex Mankind Divided was praised for its brilliant narrative and approach to worldbuilding, which the series is well-known for. Just like with previous entries in the series, Mankind Divided puts you in the shoes of Adam Jensen, a man equipped with various cybernetic implants.
The game can be played in a variety of ways, with the player's actions having direct influence over certain outcomes in the main story. For instance, you can play the game lethally, killing everyone and everything, or as a pacifist, using dialogue to persuade people from abandoning violence.
#8 Borderlands 3
Borderlands 3, despite being a weaker entry in its respective series, still manages to deliver yet another fantastic looter-shooter romp through outer-space. BL3 expands upon its predecessors by introducing new planets to explore, such as Promethea, Eden 6, and more. The story isn't the greatest, due to it suffering from some extremely cringeworthy moments, but the gameplay is where the game truly shines.
#7 Tiny Tina's Wonderlands
Tiny Tina's Wonderlands may look like just a spin-off, but that's not the case whatsoever. Wonderlands is an excellent Borderlands game, delivering yet another addicting looter shooter, while also utilizing a high fantasy setting akin to Dungeons and Dragons. The base game may not be as meaty as its older siblings in the series, but that doesn't stop Wonderlands from standing out on its own.
#6 Prey
Arkane Studios have established themselves as a creative developer that home in on the "play your way" approach to game design. 2017's Prey is a reboot that manages to encapsulate the isolating atmosphere of the first game, while also bringing in some of its own unique elements. The player has a bunch of tools to experiment with, making this one of the finest RPG shooters available on the PS4.
#5 Control
Remedy Entertainment are well-known for the Alan Wake and Max Payne series, but their most recent title, Control, was fantastic. Control features an interesting main story that can often play with your mind, often requiring you to analyse everything to fully understand its content.
From a gameplay perspective, Control sees you playing as Jesse, who just so happens to unlock some unique powers upon entering the mysterious Federal Bureau of Control. Jesse can be equipped with some unique weapon skills to enhance her newly acquired service weapon and abilities.
#4 Warframe
Warframe launched in 2013 on PC, and has since been released on every major platform, including the PS4. If you're like us at Gameranx, then you're probably interested in a game that you can grind to your hearts content. Warframe is the embodiment of that idea, as the gameplay allows you to work towards specific objectives, such as unlocking a specific Warframe or weapons that you have been after for a long time.
#3 BioShock: The Collection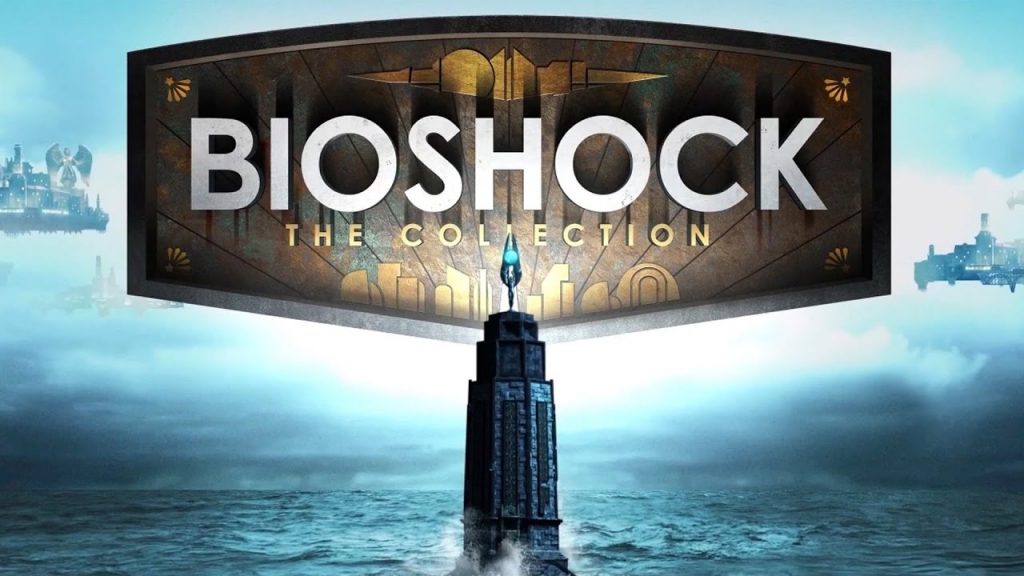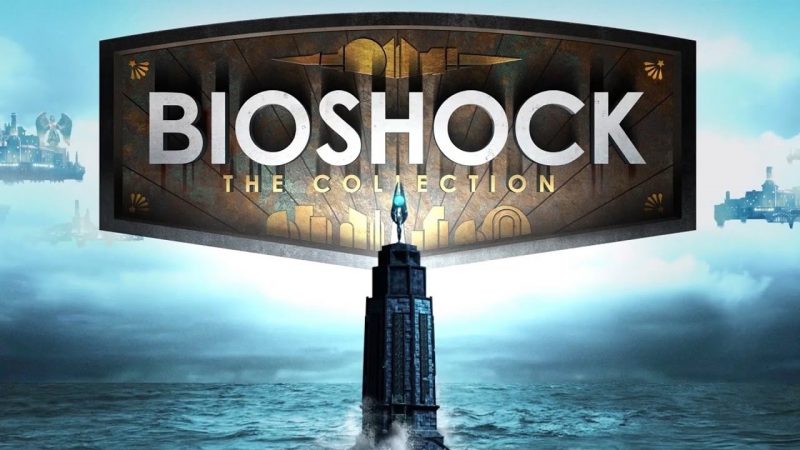 The BioShock franchise was an influential giant during the seventh generation of consoles, reinventing how we view narratives in first-person shooters. BioShock: The Collection compiles all three games in the trilogy, BioShock, BioShock 2, and BioShock Infinite with all their DLC.
You get a ton of value here, in addition to some of the best stories available in a video game. It may be on the lighter side when it comes to RPG elements, but there is still some level of customisation present in each of the games.
#2 Mass Effect Legendary Edition
Ah, the Mass Effect trilogy, one of the defining games of the seventh generation – just like the previous entry on this list. There's something truly special about Mass Effect that's hard to describe. The music, story, and gameplay still hold up to this day, and the Mass Effect Legendary Edition has updated them even further with various quality of life improvements. If you have yet to play the original Mass Effect trilogy, then you owe it to yourself to give it a go.
#1 The Outer Worlds
Number 1 on this list takes inspiration from a certain RPG shooter that was released in 2011.
From the creators of Fallout: New Vegas, The Outer Worlds is another excellent demonstration of heavy role-playing mechanics in a shooter. Set in the Halcyon Star System, The Outer Worlds sends the player on a grand adventure across the stars to explore various planets and assist mad scientist Phineas Vernon Welles.
It's clear that The Outer Worlds is trying to replicate New Vegas through its dialogue system and overall structure, which was what fans were asking for. Don't skip out on this one, as you're in for one crazy adventure through outer space!
Bonus Games
Tom Clancy's The Division 2
Tom Clancy's The Division 2 is at the bottom of this list, but that doesn't mean that it's a bad game or anything. Originally released in February 2019, The Division 2 is a massive improvement over the first game, as the gameplay is even more satisfying, and the endgame content was worth playing. Ubisoft has continued to release new content since the game's debut, and it seems like they're continuing to offer new goodies on a frequent basis.